1929 three-bed semi with loft conversion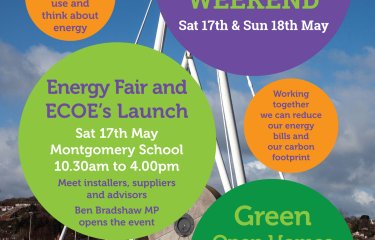 Energy-saving improvements
Low-cost improvements

'Big' insulation works

Glazing

Renewables: heat

Renewables: electricity

Water management
Location
Meet 2pm at Montgomery School for organised tour
Exeter
Devon
EX4 2AU
Opening times
17 - 18 May 2014
Meet at Montgomery School, Redvers Road EX4 1BS at 2pm Saturday 17th May for a tour of the school followed by visits to two homes including this one
This event has now finished.
Other
Emma Welton's home is 1929 three bed semi with loft conversion, featuring:
- cavity wall insulation
- roof insulation
- wood burning stove
- solar PV
- grey water systems/rain harvesting
- double glazing
To see this home come for a tour of Montgomery School at 2pm on Saturday 17th May, which will be followed by a visit to Emma's house and another home in St Davids. We will be organising a car share so please let us know in advance if you need transport or if you are willing to share your car. Contact [email protected]
Location
Meet 2pm at Montgomery School for organised tour
Exeter
Devon
EX4 2AU
Opening times
This event has now finished.
Other homes nearby